T.&T.V. INSTITUTE OF NURSING
REPORT ON ORGANIZATION OF SCHOOL HEALTH PROGRAMME
On 21st December 2022, 4th year bsc nursing students has Organized School Health Programme under the guidance of Mr JimmyjamesMogaria ,Principal of T.&T.V.INSTITUTE OF NURSING. School Health Programme was conducted in P.M.Bhagat school katargam,surat , at 9:00 a.m. to 12:00 p.m. The Programme was coordinated byMs.Bhumika Chaudhary,Ms Jagruti Patel,Ms Heena Patel,MsPrarthana ,Macwan.
OBJECTIVES:
To perform health screening of school children
To detect any abnormality at its early stage
To bring health awareness in school children
To encourage children to adapt healthy health habits.
ACTIVITIES:
The students of Final Year B.Sc nursing of T. & T. V. Institute Of Nursing have conducted School Health Programme which included health check up and  exhibition which was held among the  students of 9th standard of P.M. Bhagat School, Katargam, Surat. The function was inaurgrated by Mr.RasikbhaiZanzmera, Principal Of P.M. Bhagat School.
 Total 128 students among which 56 female and 72 male students attended the progamme.
Exhibition was held on the topics related to adolescent health education like Prevention Of Anemia, Menstrual Hygiene, Importance of nutrition, child abuse, Healthy Lifestyle, Substance Abuse, Self Defence , Self Breast Examination, Cervical Cancer [HPV] vaccination, Pubertal Changes, Stress Mangement And Types Of Menstrual equipments.
 Health Checkup  was held in order for general assessment of students. Our students arranged different checkup desks on the provisions of Registration, Height And Weight Measurement, General Examination, Guidance and Counselling and Feedback Desk.
 Refreshment was setup By our  students who attended the Health Awareness Programme.
 Many health problems including cold&cough,hyperacidity,constipation,stomach ache,headache, rashes , allergy, anger issue , acne vulgaris, painfullmenstruation,weight gain problem ect..were noted among this adolescent group of students.
REGISTRATION DESK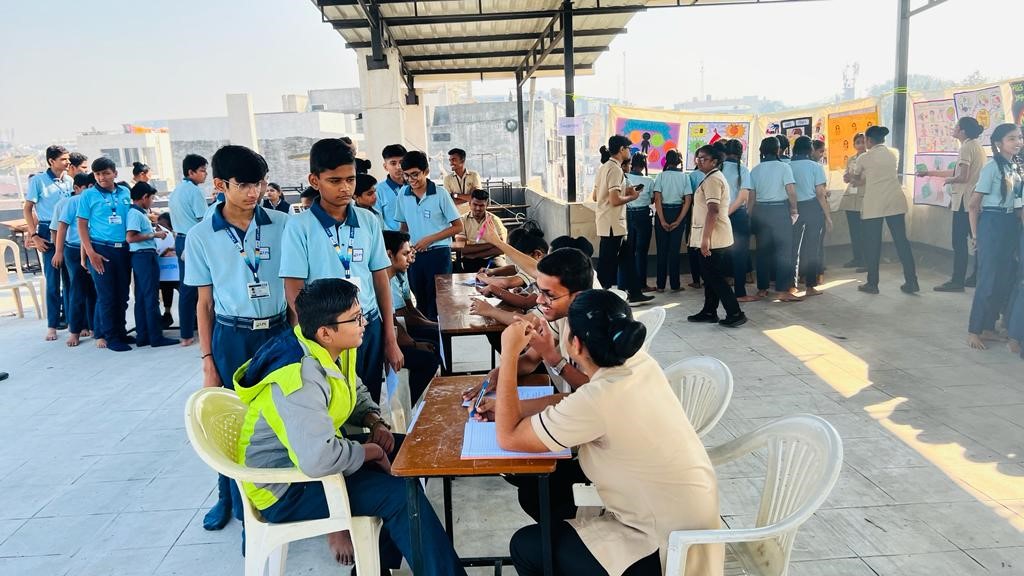 CHART EXHIBITION AND HEALTH EDUCATION
HEALTH CHECK UP DESK
GENERAL ASSESSMENTGUIDANCE AND COUNSELLING